Pediatric Chiropractic at Luna Sol Chiropractic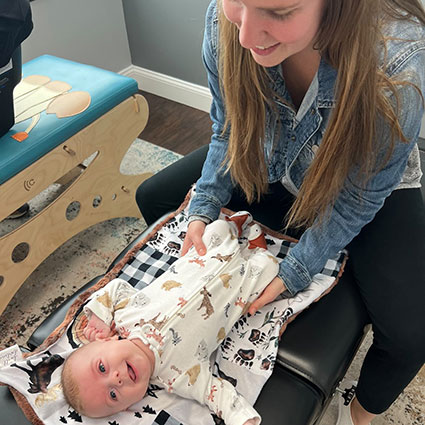 Dr. Emilie provides pediatric care at Luna Sol Chiropractic because she wants to help everybody develop as healthy and happy as possible. Many health issues people deal with later in life essentially stem from developmental stresses. When they're taken care of early, they won't have those same pains and ailments when they get older.
She continues to learn more and stay informed of the latest care options as a member of the ICPA and many classes from the Pediatric Experience.
NEW PRACTICE MEMBERS

What Is Pediatric Care?
It's a very specific approach to chiropractic that helps kids and babies support their bodies through life, development, and aging. Birth is the biggest trauma infants will ever experience. Their passage through a tiny canal or belly causes a lot of tension and pressure in the spine. Specifically in the upper cervical spine, but also in the lower back and sacrum area.
Every child is different, so we make sure to do our full spinal analysis on them. We use very gentle techniques to adjust problem areas, never any cracking or twisting. We adjust babies with no more pressure than used to check a tomato for ripeness. For kids, we adjust them using an Activator® tool or Logan Basic.
How We Help
We take our time and go through the exam process at their pace. Some kids haven't had great experiences at primary care or a hospital, so they may have anxiety around those settings. We work with them so they know this is a different kind of place.
We help with things like
Immune system function
Digestive issues
Latch issues
Developmental delays
Ear infections
Youth athletics
Behavioral issues
ADD/ADHD
Autism
Torticollis
And more
Helping Our Littlest Patients
One of our moms brought her 3-week-old son in with severe gas pain, constipation, and difficulty eating. He also was very stiff, with straight arms and legs, a hard belly, and restricted at the hip. The baby was in so much discomfort, he would start crying when Mom tried to feed him.
Since Mom had difficulty breastfeeding, Dr. Emilie first suggested trying a formula she recommends that's very clean and healthy. After his first adjustment, he fed with a lot less gas. With two or three weeks of care, he was back to 100% normal function, with no feeding problems and regular bowel movements. Mom was super happy—and so was Dr. Emilie!
Book a Visit
Your child is special to you—and us. Have them checked today!
CONTACT US
---
Pediatric Chiropractic Purcellville, Leesburg VA | (703) 495-3671