Meet Dr. Emilie Quinn
Dr. Emilie loves helping people get back to themselves without needing some external crutch, such as medications or surgery. She offers other forms of health care, providing them with a natural way to restore health and wellness.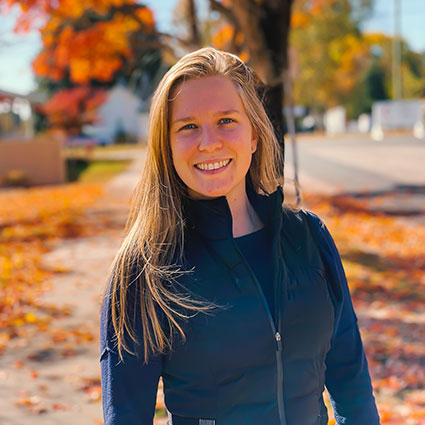 Naturally fun and outgoing, she wants every practice member to know she takes the time to listen, not just hear, because she cares about them.
A Defining Process
Dr. Emilie relates that there were many little moments where the universe told her chiropractic was the path she needed to take.
Her initial exposure came at the end of her high school career. After her rehab stalled after six months of PT, her dad recommended she see a chiropractor. After a few months of care, she was able to run again.
In her sophomore year at Temple University in Philadelphia a chiropractor spoke to one of her kinesiology classes. He spoke about his life/work balance, how many people he was helping, and his focus on athletes.
Dr. Emilie spent her junior and senior year of college shadowing many health care practitioners from Physicians to PA's, PTs, nurses, and chiropractors. She quickly realized the healthy lifestyle of chiropractic care was the best fit for her. Most doctors balanced work and life successfully, ran their own business, and felt fulfilled in taking care of people.
An Educational Journey
Dr. Emilie attended Life University in GA, earning her Doctor of Chiropractic in 2021. While on campus, she was active in the Kairos Training Community. The group does seminars for chiropractors and students specific to training adjusting biomechanics, as well as as well as meditation, mindfulness, and connection pieces.
Waking up at 5:30 in the morning, four days a week, to train for an hour before classes wasn't easy, but that's where she learned the importance of connecting with the person you're adjusting, staying present with people, and taking care of yourself before you can care for other people.
At Life, she learned about hormones, and how the brain and body communicate. At the time, she wasn't having her cycles, and got under care at school. The doctor helped her balance her hormones, addressed her severe adrenal fatigue, and introduced her to a whole new version of what holistic health care can look like. That's when she found her passion for working with women and kids to get them off to the right start when they're young.
EXPLORE OUR SERVICES
Outside the Practice
Dr. Emilie is involved in Loudoun County Chamber of Commerce and enjoys attending other local networking events
When she's not working, she enjoys running, hiking, and spending time with family, friends, and her dogs. Dr. Emilie and her fiance like to spend time outside, since they're so close to Shenandoah Mountain, visit wineries, and meet new people in the area.
---
Dr. Emilie Quinn | (703) 495-3671